"This rustic, yet glam and totally Spanish-inspired boudoir inspiration shoot from Angie Capri Photography is simply wonderful. It celebrates a woman's confidence while providing ample ideas for your own unique boudoir session!" – Burnett's Boards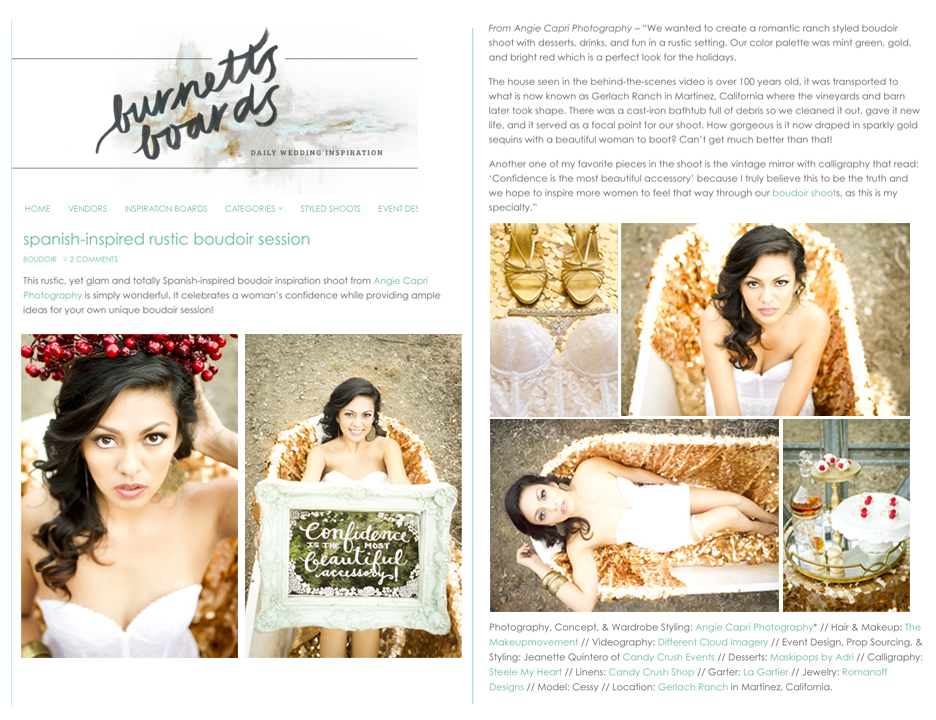 Check out our Spanish inspired rustic boudoir session featured over on Burnett's Boards, click here!
We wanted to create a romantic Spanish inspired holiday boudoir photoshoot with yummy desserts and drinks in a fun rustic ranch setting full of character and confidence! The house seen in the video is over 100 years old, it was transported to what is now known as Gerlach Ranch in Martinez, California just outside of San Francisco where the vineyards and barn later took shape. The cast iron bathtub is the original tub from the home which was removed due to renovations years ago and discarded outside. When I discovered it, it was full of debris and garbage – not to mention home to lots of bugs! We cleaned it out and gave it new life and it served as the focal point for this boudoir shoot – I mean how gorgeous is it now draped in sparkly gold sequins with a beautiful woman to boot? Can't get much better than that! It's old rustic charm adds much of the character we were looking for.
Another one of my favorite pieces from the shoot, is the vintage mirror with hand written calligraphy that reads, "Confidence is the most beautiful accessory" because this idea is what I believe every woman should subscribe to in order to feel as authentically beautiful and whole as she is meant to feel. I hope to inspire more women to feel that way through our boudoir photoshoots.
The team: Photography: Angie Capri Photography //  Location Scouting, Wardrobe Styling and Concept Creation: Angie Capri Photography // Hair and Makeup: The Makeup Movement // Behind the Scenes Video: Different Cloud Imagery // Design, Prop Sourcing and Stylist: Jeanette Quintero of Candy Crush Events // Desserts: Maskipops by Adri // Calligraphy: Steele My Heart // Table linens: Candy Crush Shop // Garter: La Gartier // Jewelry: Romanoff Designs // Location: Gerlach Ranch, Martinez, CA