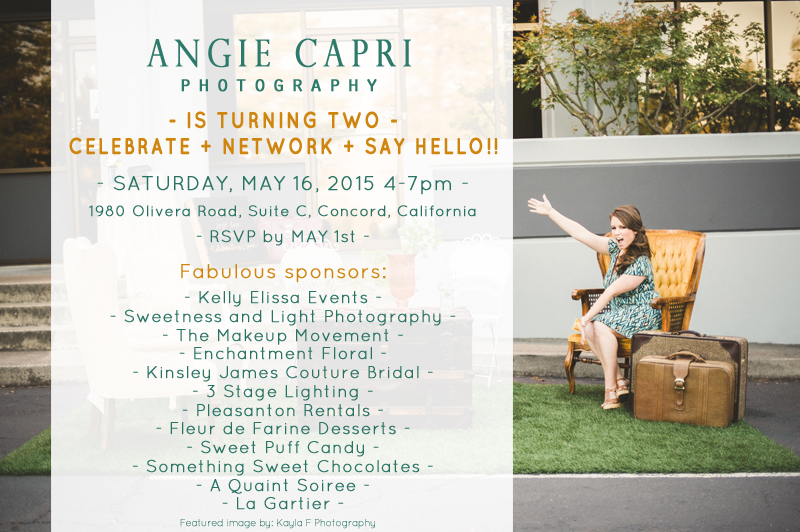 Angie Capri Photography is excited to announce… we are turning TWO and celebrating our birthday on Saturday, May 16, 2015 from 4:00pm to 7:00pm at our studio located at 1980 Olivera Road, Suite C in Concord, California.
As a small business, we have experienced many ups and downs in our first two years, but we are happy to continue to grow and evolve along this wonderful journey all the while growing our supportive community of super talented and creative wedding and boudoir professionals and out-of-the box clients who allow us to follow our dreams as entrepreneurs, artists and activists!
Industry pros and brides to be, we invite you to come network with our very favorite Bay Area wedding professionals. Just ask for who you're interested in meeting to collaborate with and we'd be happy to personally introduce you. Be sure to dress to impress since you never know who you're going to meet :)
Come for inspiration too!! There will be a delicious array of treats + beautiful decor and florals will abound + gorgeous wedding gowns will be modeled live + our studio will be lit up in lights for the first time ever!
PLUS, super duper (yes I said it!) swag bags complimentary to the first 25 ladies!!
This year's festivities are going to be even more memorable than the last two all thanks to our wonderful team of sponsors who are helping us take our party and the whole experience to the next level!! We are so thankful and so extremely excited we can BARELY contain ourselves!!
Our wonderful team of sponsors: Event Coordinator: Kelly Elissa Events // Event Photography: Sweetness and Light Photography // Hair and makeup: The Makeup Movement // Florist: Enchantment Floral // Wedding Gowns: Rivini and Lian Carlo Designs From Kinsley James Couture Bridal // Event Lighting: 3 Stage Lighting // Event Rentals: Pleasanton Rentals // Desserts: Fleur de Farine // Cotton Candy: Sweet Puff Candy // Chocolates: Something Sweet Chocolates // Event Signage & Calligraphy: A Quaint Soiree // Custom Garters: La Gartier
Find out more about our special gift with purchase from La Gartier for new wedding & boudoir photography clients in summer 2015
Featured image by: Kayla F Photography
Update: See part one of our exciting anniversary party highlights