"Angie Capri Photography recently celebrated her 2nd anniversary as a business and along with a team of amazing wedding pros and event vendors, threw herself one epic networking party to celebrate! Today, they're going to give you all of their best tips detailing how to host an effective, engaging and entertaining business networking event!" – Burnett's Boards
See our article and interview, "How to Host A Successful Small Business Networking Event" featured on Burnett's Boards!!
See more highlights from our 2nd anniversary party on the blog: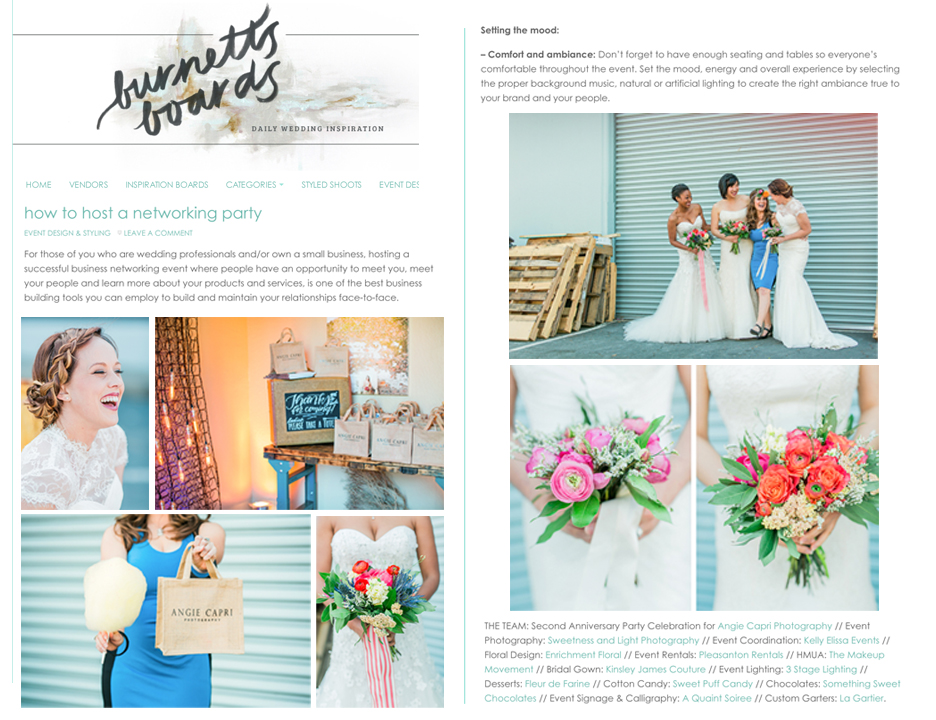 How To Host A Successful Business Networking Event
For those of you who are wedding professionals and/or own a small business, hosting a successful business networking event where people have an opportunity to meet you, meet your people and learn more about your products and services, is one of the best business building tools you can employ to build and maintain your relationships face-to-face. So today, we're going to give you all of our best tips detailing how to host an effective, engaging and entertaining business networking event!
As a host of an awesome business networking event you are:
Taking charge of meeting new people
Expanding your own network
Establishing yourself as a connector
Creating a reason for people to want to know you
Strengthening your own relationships because you will genuinely be helping other people
Getting started:
Create a detailed list of how you plan to create buzz and excitement leading up to the event, during the event and after the event
Make sure that you are creative, unique and innovative all along the planning process in order to intrigue and attract your target clients and colleagues who you'd like to partner with
You'll need to be able to promote your event in a way that tells the world it's going to be fun and will benefit guests in a variety of ways
Make sure to create a compelling and detailed event description that can be shared in these places for maximum exposure:

Eventbrite (where guests can easily RSVP)
Meetup
PR Log (write an exciting press release)
Your own blog which you will continue pointing guests to while promoting your event across social media sites like: Twitter, LinkedIn, Facebook and Instagram

Begin promoting your event a minimum of 8 weeks ahead of time
Send out reminders every 1-2 weeks leading up to the big day
Event Logistics
Professional photography:
Obviously, this one's close to my heart. Let's be sure to hire a professional event photographer to document your special event to guarantee:
Quality and consistency of compelling images that you will strategically use to promote your small business and your highly successful business networking event over and over again
Everything about the event is documented:

The beautiful details you and your team have spent hours (days… months!!) agonizing over to get just right
The fabulous guests who have arrived dressed in their best
The host schmoozing, connecting and interacting with their guests
The excitement, the fun, the emotion!!

How else would you be able to successfully capture and tell this story? People will need to see it to believe it (especially in this day and age driving by visuals and lots of photos)!
Location:
If you have a business location where you can host the event this is perfect and you'll avoid additional rental fees. Plus, it provides your guests with a more intimate understanding of you and what your business is all about.
If you need to rent a location, be sure to do your research ahead of time guaranteeing you select the right location that acts as an authentic extension of your business for consistency in branding.
On a budget:
Invite your favorite local colleagues for an opportunity to showcase their own small businesses and expertise in exchange for official sponsorship, business promotion, and professional photography they can continue to use for their own business marketing and promotion
Setting the mood:
Don't forget to have enough seating and tables so everyone's comfortable throughout the event. Set the mood, energy and overall experience by selecting the proper background music, natural or artificial lighting to create the right ambiance true to your brand and your people.
Set expectations ahead of time including appropriate attire that's business professional (you'd be surprised how many people appreciate the extra direction) and having this consistency throughout your event makes people feel more comfortable and feel like they belong as they begin strolling in, ready to dress to impress. (Not to mention everyone will look fabulous in your professional event photos!)
Be sure to remind event guests and sponsors to bring loads of business cards in order to stay in touch with all of their new connections (and you better have a stack as well). You can set up a networking table and invite all of your guests to leave their information and swap with others there.
Make sure you designate a "people person" to be in charge of greeting guests as soon as they arrive (and not a moment later) to assist with signing in, creating name tags and signing a model release. Don't forget to greet as many guests as possible yourself (the host), and introduce people who'd make a great connection guaranteeing everyone feels welcome and included
Refreshments:
Please, please don't forget about simple finger foods, light appetizers and water so guests stay hydrated and are not starving in search of food instead of connecting and networking. This is a huge issue I continue to see networking event hosts run into and it's a super simple fix that will either keep guests coming back for more or wanting to run away. If you're able to go above and beyond this refreshment minimum, you will score even more impressive points with your community!
Give them a takeaway:
Provide your guests with an awesome thank you gift representative of your company and branded with your company logo:
We personally love a goody bag or swag bag that's so awesome your guests will actually want to use it everywhere they go (rather than tossing it in back of the closet atop all of the other sad boring bags they've gotten at everyone else's events). Stuff it with your business info, sponsors' info, samples, special offers and treats that smell and taste good (chocolate's a great place to start!)
Another great idea is providing all of the guests with a ticket when they sign in and host a raffle at the end of the event. Ask your sponsors to donate items to the raffle for another opportunity to promote their own businesses!
Follow up:
Send a follow up thank you announcement including highlight photos (from your amazing professional event photographer) to stay in touch with guests after the event, to promote your event and future events.
Few! The end :)
Our wonderful 2nd anniversray party team of sponsors: Event Coordinator: Kelly Elissa Events // Event Photography: Sweetness and Light Photography // Hair and makeup: The Makeup Movement // Florist: Enchantment Floral // Wedding Gowns: Rivini and Lian Carlo Designs From Kinsley James Couture Bridal // Event Lighting: 3 Stage Lighting // Event Rentals: Pleasanton Rentals // Desserts: Fleur de Farine // Cotton Candy: Sweet Puff Candy // Chocolates: Something Sweet Chocolates // Event Signage & Calligraphy: A Quaint Soiree // Custom Garters: La Gartier
***
In case 'ya missed it up top…
See our article, "How to Host A Successful Small Business Networking Event" featured on Burnett's Boards
See more highlights from our 2nd anniversary party on the blog:
Part 1 – Find out how we pulled it all off including inspiration, event and detail design and our DIY tips
Part 2 – More anniversary party highlights and our gorgeous brides in stunning wedding gowns!!