Angie Capri Photography has joined our first BNI group and we are also one of the founding members! This is exciting because we have had the opportunity to help shape the membership of our group to reflect our core values. Our BNI group is based in Walnut Creek, CA. We call ourselves, "We Inspire!"
We are out to create something different, out of the box and less traditional. Very appealing to us, as other BNI groups we've visited in the past are typically more traditional, stuffy and kind of corporate feeling (yuck!).
Review an updated list of our members on the BNI SF Bay Website, click here.
"The vision of 'We Inspire' is to help each other build our businesses to their highest potentials through referrals. We build long term, meaningful relationships with each other and empower each other to become our best professionally and personally. Our chapter is passionate about giving back to our local community, nation and world. We believe that if everyone can contribute a little, much can be done, therefore we strive to create a community within our chapter that desires to give and serve. Our goal is to take this philosophy and vision to other BNI chapters and create a movement of volunteerism."
Check out our brand new logo, created by Nerd Crossing (our IT peeps)!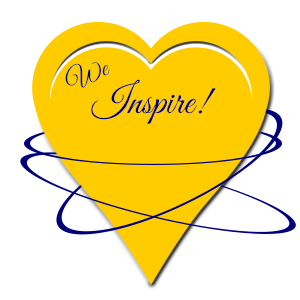 Who WE ARE, WHO should JOIN OUR GROUP, more about BNI:
We are looking for quality small business owners who are heart-centered, energetically awesome, inspiring, reliable, professional and outstanding to pass our referrals to, who are interested in and passionate about our mission as a chapter!
Review an updated list of our members on the BNI SF Bay Website, click here.
BNI is a business and professional networking organization whose primary purpose is to exchange qualified business referrals. The organization currently has over 7,100 chapters worldwide and last year, members of BNI passed over 7.1 million referrals which generated over $5 billion worth of business!
What makes BNI unique, is that it allows only one person per profession to join a chapter. Thus, once you become a member, none of your competitors can participate. You meet on a weekly basis with the same group of people. You'll continue getting to know each other, building trust, relationships and incredible referrals that book!
"We Inspire" Meeting and BNI Membership Info:
"We Inspire" BNI meetings are every Thursday at 12pm for 1.5-2 hours

Many other groups meet at 7 or 8 a.m. yuck! (If you ask us…)

At The Elks Lodge: 1475 Creekside Drive, Walnut Creek, CA
Parking is free and ample, make sure you arrive early to grab a spot!
$150 application fee (one-time fee), plus:

$445 for one year of membership (annual dues)
Or $685 for a two year membership

$100 or so for quarterly dues – this covers our meeting venue and the food (we are working out if/when we will begin offering or including food)
Attendance – You can miss up to 6 meetings in 6 months. You need to find a substitute to cover for you at least 3 of those times.

This may be worrisome for those of us who work alone, but it can actually be beneficial for you because if you can find a previous client or a colleague to substitute, this person can brag about you to everyone, talk about what their experience has been collaborating with you and/or hiring you!
If you would like to check out our group before joining, attending as a guest or subbing for an existing member, would be a great way to start:
Let a member (or us) know you are coming in advance so we get can you registered ahead of time and set you up for success!
Arrive 15-30 minutes early, sign-in, be ready to network, get situated.
The meeting runs 12:00pm-1:30pm.
Bring a lot of business cards, 30-50 would be great. They will get passed around during the meeting.
We (personally) stay until 2pm (or even 2:30pm) to connect, catch up and network – always a great idea to stay longer if you can.
Costs for guests/subs is complimentary at this time.
Eat lunch before the meeting, we do not currently offer or include food at this time.
Dress for success in professional business attire.
More tips on what to expect as a substitute or guest:
If you are a sub only: We use subs so that our spot in the group is represented when we are not present ourselves. During the meeting each member will have 15-30 seconds to introduce themselves and ask for a great and very specific referral for the week. Since the member you will be subbing for will be unable to attend, this is your most important duty as a sub. Ask the member you are subbing for to send you a statement you can read during this portion of the meeting. Bonus tip: Please practice this ahead of time, time yourself, to be sure you can share your message consistently and familiarize yourself with it.
As a guest, the above description would not apply for you. Instead the member who invited you will have 15-30 seconds to introduce you and your business (or you will be asked to introduce yourself), they'll let us know during this time.
Later, members will share more about their, "one-to-ones," "thank you for closed business," and referrals' for the week. During this time, guests and subs will have 15-30 seconds to say what they liked about the meeting/the energy of our group/the speakers (there are two every week). Or guests and subs can give a live testimonial about what their experience has been with the member who has invited them, from the perspective from being the members' friend/colleague/client – which is always amazing and greatly appreciated!!
Bonus tip: Anytime you are speaking as a guest or a sub, be sure to get right to the point, keep it short and sweet, the whole meeting is timed and when guests or subs get carried away, it can impede the flow. Sometimes they ramble because they are nervous and/or they haven't practiced and timed what they're planning to say ahead of time LOL.
Towards the end of the meeting, guests and subs will leave the room with the membership committee, while the members talk about member type things. The membership committee will give guests and subs info about joining should they be interested and feel like it would be a great fit for them and their business. This is a great time to ask any questions they might have about membership. We are not pushy so just be honest (this is your first first time, just checking it out, or what ever you feel, etc.).
An exciting time for our chapter, celebrated our official launch party in July 2016 and growing rapidly!
We'd LOVE your help in filling the remaining available categories with heart-centered, energetically awesome and inspiring, super reliable, professional and outstanding small business owners!
Be warned that we are very picky! We are only interested in people who are interested in building long-term and meaningful relationships, interested in serving others and who are on their a-game! That means no slackers allowed! #sorrybutnotsorry
Review an updated list of our members on the BNI SF Bay Website, click here.
Check out our founding members and launch party photos!
(Updated: 9/29/16)