How special is it for one creative soul to inspire another?? Well, in all of this hustle and bustle of being a creative small business owner, it's refreshing and energizing to know your work has landed and has inspired someone else, confirming there are people out there who are listening, who see you, who care.
I was thrilled and honored to receive this custom illustration from an image I shared on Instagram of one of our bohemian boudoir shoots.
Creating custom illustrations inspired by your maternity, boudoir or wedding day photos is a unique and genius way to create more beauty in your life and express another layer of your story. I knew I had to interview the woman behind it all to find out more – and as a thank you, share her story with the world!
Naava Katz creates "custom illustrated portraits for mothers, brides and other magical people" (how cool is that introduction!?). She's able to capture and express such depth and meaning of her subject's story in just one image.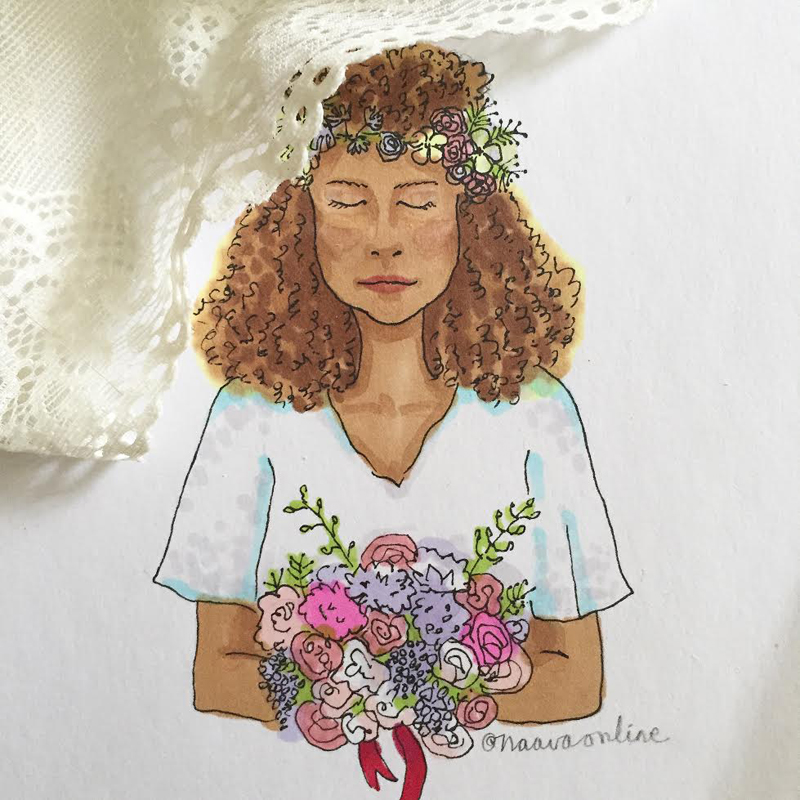 The team (pictured above): Photography: Angie Capri Photography // Illustration: Naava Online // Location scout and wardrobe styling: Angie Capri Photography // Makeup: The Makeup Movement // Hairstyling and model: DeShawna Phillips // Florist: Jaimee Leigh Events // Lingerie and nightwear: In Bloom by Jonquil // Garter: La Gartier // Venue: The Purple Orchid Resort and Spa, Livermore, California
Our interview with Naava Katz
Why do you love creating custom illustrations and why do you focus on women and "other magical people"?
I began noticing that "custom family portraits" were becoming popular on Etsy. I've been a designer for many years for businesses, but the idea of creating art for families really lit a spark in me. I like illustrating fashion and different character details. But what I was most drawn to – and possibly because I just had two babies in two years – was imagery that focused on love and special moments.
I began by illustrating photographs I found on Instagram that inspired me. Most of those images were women with their children or on their wedding day. Moments in life where the emotion speaks louder than any other detail. The bridal portraits were the first drawings I did where I had that Aha! moment. They weren't just drawings of a woman in a dress. They were about the moment she said yes to one of the biggest decisions of her life. Where she felt so beautiful and so at peace. That segued into pregnancy images and mother and child.
When I felt like I found my groove, I launched my store on Etsy. I would also love to create these illustrations for editorials in magazines. Illustrations are a wonderful way to enhance a story or product.
How do you weave extra meaning into your projects?
To add to the emotion and the layout of my illustrations I like to add a 3D halo around the characters. Like a physical aura. I had trouble finding the perfect little gems that would sit well on the paper. But I finally found them in the nail art industry! They are so tiny I have to use special tweezers to pick them up and a fine tip glue pen. But they come in an array of colors and add an extra little shine to the drawings.
Where should people start when deciding who to choose for their custom illustrations?
I think it comes down to the style of art you'd like in your home. Some people want to find an artist who is very modern and graphic. Some people like cute comical characters. I'm more of a storyteller with my art and keep my lines very simple. Whatever you're looking to have illustrated, first find an artist whose portfolio matches your taste.
What inspires you?
I'm inspired by a lot of photography. Family portraiture and bridal photography has become such a beautiful art form. Artists behind the lens are really pushing their imagery to great heights. That inspires me to create illustrations that capture emotion and love the way a photograph can. Plus, this is exactly how I found you while searching for inspiration on instagram!
Next, read Naava's superhero inspired interview with Cut Out + Keep (a blog about arts, crafts and full of tutorials) and check out their brand character "Crafterella" as designed by Naava (interview continues below gallery…)
Here's more from Naava's interview (which I just love!) with Cut Out + Keep!
Naava's artistic career has been filled with adventures. From illustrating and writing children's books, to designing stationery and hand-lettering cartoons, there is always a new project to take on. She is a producer, a maker, a creator and a teacher. In addition to raising two creative daughters (which has been her biggest project yet), Naava posts drawings about parenthood (and other magical things) on Instagram @naavaonline.
Have you always been creative and artistic?
Yes and yes. And yes again. I've always been an "art major" in every sense of the term: as a student, as a professional, as someone who doesn't skip an aisle in a craft store. I have a "grocery list" in my phone, and I have a "things to draw" list. Guess which gets done first.
How would you describe the style of your work?
You reach a certain point in life when all of a sudden the most awesome things that happen to you seem to fly by so fast. Those are the moments that I like to draw. Illustrating those life experiences, especially as it connects to marriage or motherhood, is my way of slowing everything down.
What's in your pencil case and what's your favorite tool?
I would like to take this moment to officially say to my new Copic markers, where have you been all my life?? Not to be dramatic or nothing, but they have been life changing for my art. I will also accept any opportunity to use washi tape and glitter paint.
Who is your favorite superhero?
The 6 women my 2 girls are named after.
If you could have one super power what would it be?
I'm fine as is, but actually I would like my dog to have super powers so she could do some of the carpooling and perhaps a load of laundry.
Where do you look for inspiration?
I may be late to the party but I think Instagram is still amazing for artists. It's like the whole world is sharing a studio together. If you curate your feed carefully, it can be such a great tool. It's also shown me that most artists are up way too late.
Who are your favorite artists or comic book authors?
Lynn Johnston was my first art hero. Her cartoons were always sweet, funny, and loving. I consider her to be a major influence. I'm also a big fan of Katie Rodgers (fashion illustrator), Emily McDowell (greeting card designer), Rachel Ryle (stop motion animator) and Katie Daisy (painter). They're all highly creative women with an inspiring work ethic.