"Morning lovely ones! We're starting off our day today with some boudoir inspiration that really encompasses the idea of natural beauty to me. Our subject looks so comfy, so happy and so beautiful! And she's surrounded by gorgeous nature, and the most delicious light – spectacularly captured by photographer Angie Capri. The other things about it I adore, are the deep berry/jewel palette that comes through in the flowers, both bouquet and floral crown, which I think makes a drop dead amazing colour scheme for a wedding, as well as the 'bride's' awesome curly hair." – Southbound Bride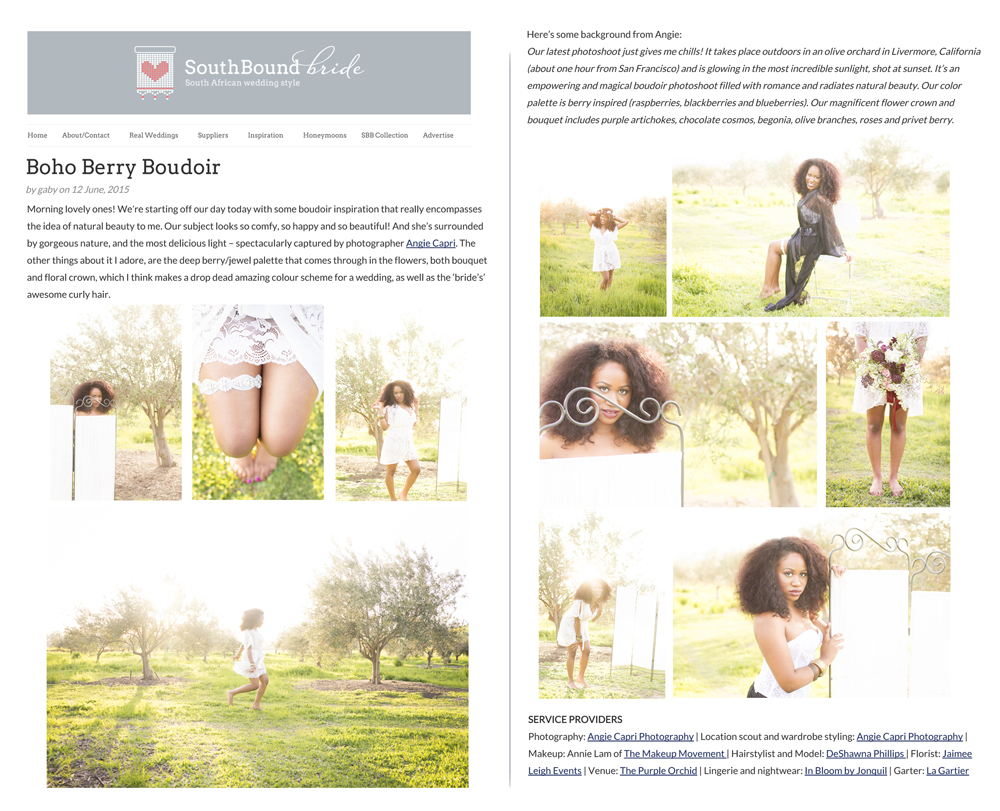 Check out our bohemian berry inspired boudoir shoot featured over on Southbound Bride, click here!
Our latest photoshoot gives me chills! It takes place outdoors in an olive orchard in Livermore, California and is glowing in the most incredible sunlight, shot at sunset. It's an empowering and magical bridal boudoir shoot filled with romance and radiates natural beauty. Our color palette is berry inspired (raspberries, blackberries and blueberries). Our magnificent flower crown and bouquet includes purple artichokes, chocolate cosmos, begonia, olive branches, roses and privet berry.
The team: Photography: Angie Capri Photography // Location scout and wardrobe styling: Angie Capri Photography // Makeup: The Makeup Movement // Hairstyling: DeShawna Phillips // Florist: Jaimee Leigh Events // Lingerie and nightwear: In Bloom by Jonquil // Garter: La Gartier // Venue: The Purple Orchid Resort and Spa, Livermore, California